Innovative and Practical Features: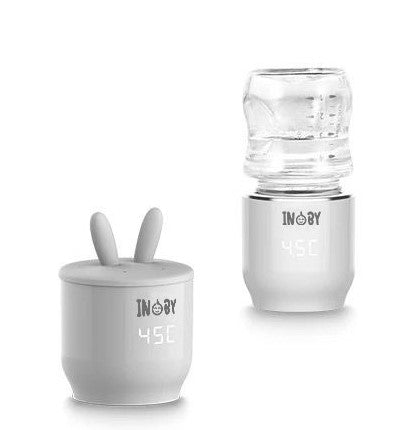 Ultra Portable and Easy to Use
Weighing only 180 grams, the INOBY warmer is very easy to fit in your crowded baby bag. It is UK's first battery powered bottle warmer, time to say goodbye to cold milk and ready for perfect temperature anytime, anywhere. Simple one button operation is easy and intuitive to use. Simply connect the baby bottle to the warmer and you are ready to go.
Functional and Versatile
The INOBY warmer has 3 adjustable temperatures (37c, 40c and 45c) that easily suits your baby's needs. Normally, the warmer takes anywhere from 10-15 minutes to warm up the liquid and it keeps the liquid in a constant temperature for up to 2-4 hours in one charge - ready whenever baby wants to feed. No more guesswork on the water/milk temperature (your tongue/hand will thank you). The INOBY warmer works for both formula and breastmilk. The warmer uses low heat technology that heats up milk evenly and avoid the risks of hot spots.
Safe to use
As parents ourselves, we know how important safety is to you and your child. The INOBY warmer heats up the liquid directly with its heating plate, that means no more guessing how much water you need to put in your traditional bottle warmer water tank to heat up your baby bottle. The INOBY warmer is made out of high quality food grade stainless steel and BPA free silicone rim. FDA approved and CE marked.
BUY NOW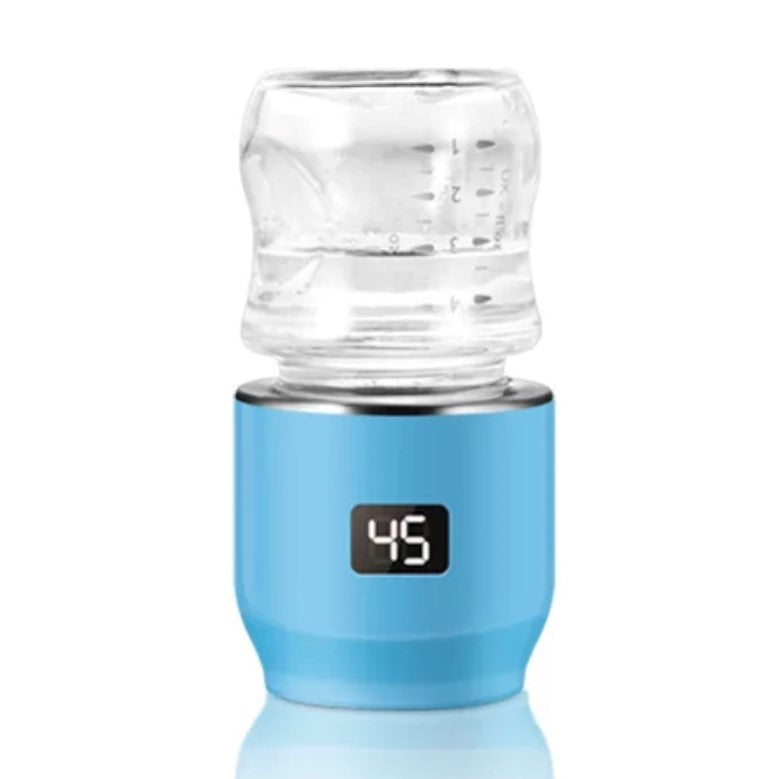 Customer Reviews
Fantastic! Game changer.
I've just purchased this for my fourth child. I wish I had something like this for my other children. No worries about a finding somewhere to warm the milk, or planning trips around feeding times. It's especially convenient in the early days when it takes three hours to get out the door, but then you can't because the baby is due a feed! This way it doesn't matter where I am or what I'm doing, grab a premix and sterile bottle and I'm good to go. The fact you can use a charging bank as well is just the cherry on the top. Would recommend to any parent, formula or breast. Would be an ideal baby gift.
Absolute Game Changer
Now that lockdown restrictions are easing and I'm planning on getting out and about more with my four month old, I started to think about bottles on the go as he hates milk cold. All the bottle warmers I saw were electric ones or ones you needed a power bank to use until I found the INOBY portable bottle warmer. Thought I would give it a go and I haven't been disappointed. So east to use and doesn't take long to heat the milk. I attach it to the bottle and pop in my change bag while I'm walking round or doing other things and then it's ready for when my son needs it. Would highly recommend. Definitely makes my life easier
Absolutely amazing product!
I couldn't give this product enough stars, it truly is such a life saver when you have a screaming baby out and about or at home! We've previously had to drag the milk, a thermos flask of hot water, a pot to put the bottle in to warm it etc out with us and it's just a nightmare. We're keen dog walkers and this fits neatly in a rucksack or bag and takes up hardly any room. The warmer simply screws on to your bottle and gently heats the milk to a set temperature (3 available I believe) within minutes and will keep it warm for a few hours if needed without all the hassle. Amazing if baby is stirring from a nap and you want to get things ready without the milk cooling down. The service is top notch too, I lost one of the little rubber parts from the adaptor and they've sent one straight away in the post for free. Very impressed. I've recommended this product to all the new parents I know - a must buy in my opinion!
Frequently Asked Questions